Not too long ago, I became a stay at home mama to two littles (Dean: age 4 and Vivian: age 2.5).
It's what I dreamed of long ago, but never saw a clear path to get there.
It's been exhausting, overwhelming
and completely rad.
I've been asked by a couple of mamas what curriculum I use, and honestly I could do a quick post where I share my resources, but I feel like that's not a fair answer.
Because learning is happening all the time and how I guide the learning is much, much more than my resources alone.
Let me do a quick disclaimer saying: I do not have it all together.
There are some days my kids watch WAY too much television.
Days when formal school doesn't happen, and days when I feel like I'm lost in the world of early childhood education.
I'm also going to say that children are resilient and no one day, week or even month is going to make or break them.
It's a totality that grows them long term.
...................................................................................
So last time I chatted about this I said you needed to know what you value in a learning environment before spending dough on the resources you will want to invest in. You can read about it
here
.
Now comes the time to dig into spending a little bit (or a lot) of money to obtain the learning environment you're seeking.

2. Set a budget.
Just like any other thing in life you can massively overspend on a curriculum if you aren't careful.
Some are inclusive- you buy it and you won't need anything else (sort of).
And some are piece meal. A lot of littles can add up though in price if you're not careful.
A quick google search for "preschool curriculum" shows too many results for this mama to handle...
I have fallen into the piecing together a couple of little curricula to add up for my kids.
I like that the cost is low enough that I don't feel the pressure of money spent
So a good jumping off point for me is again Pinterest. It just makes searching a little bit easier.
Feel free to search for yourself, but a blogger that has a great list is
Teach Beside Me
3. Make a monthly plan. If you're teaching at home: know what you're going to be focusing on. Write it out to hold yourself accountable. Include activities and books you're hoping to use. This way you'll have a better chance of making it happen on the hard to get going days. And you'll know what you've done and where you still need to go. Make sure to remember that all parts of the day (laundry time included) can be learning if that's a priority.
4. Call formal school time in your house "School time" or something to that effect. Let kids know it's time to buckle down and get some work done before heading back to some free play or other planned activity for them.
5. Enjoy them and if it's not going well...get outside before trying again.
*****************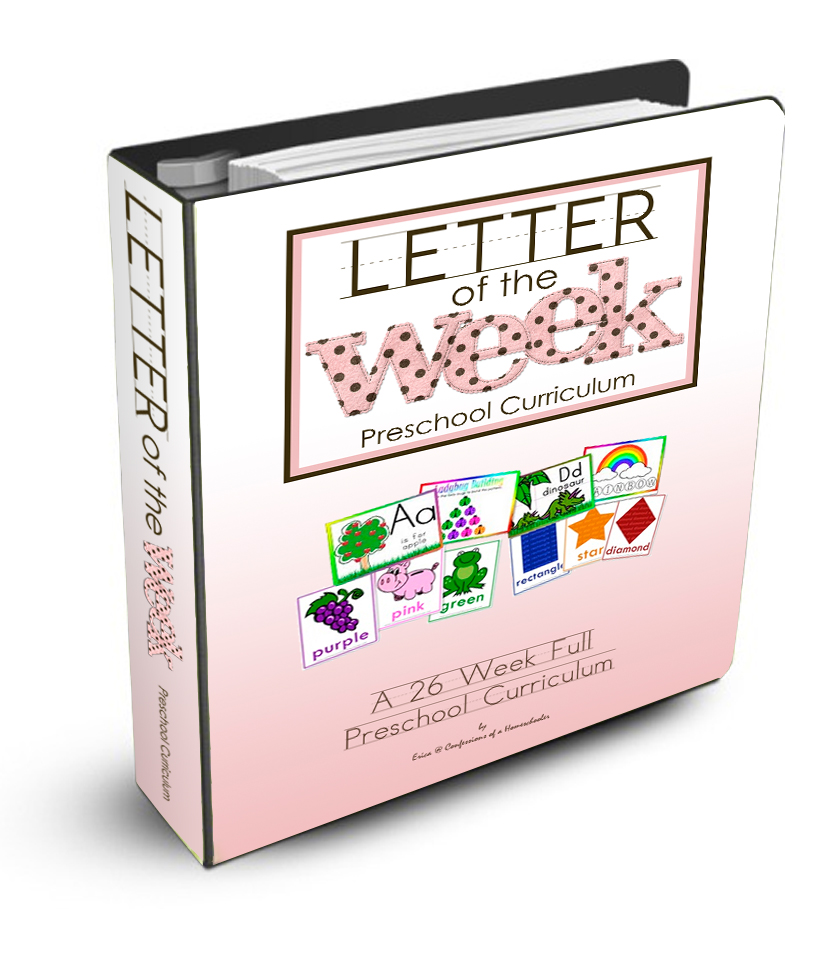 via Confessions of a Homeschooler here


I really enjoy this curriculum because it is not just letters.
It also includes math, calendar time, problem solving, shapes, colors, games, and Bible verses. The only downside is printing out the items and prepping them in advance does take a bit of work. If I had a laminator and a color printer I'd be significantly happier with this, but that's on me...not them.

Each week, I introduce a new letter and to go along with that the kids watch

Get Squiggling! Letters
on youtube (I search "squiggle write letter ___")
here's letter a
We also watch a sesame street podcast of each letter available on youtube.
Next up: We read. A. LOT.
More than I sometimes want to.
We visit the library weekly to go to story times and check out new books.
I have to make it a point to have the television off for reading time to happen.
But just like everything else: practice makes progress.
Dean LOVES nonfiction books. This morning we read a book called Wheels and Axles.
Vivian likes stories about art, ballerinas, etc.
I also choose to go through a series of books that we read all snuggled into my bed.
Those books help me focus on reading comprehension.
And it's lovely to be all snuggled in with a good book.
It goes back to my goal: learn to love to learn.
Which reminds me that sometimes just reading in a different place- under a tree, in the bathtub, in a tent, etc. can make it fun again.
I also tend to pick up cheap workbooks from Dollar Tree, Target dollar bins, etc. for handwriting and more formal school time.
I ordered these books from Amazon and am really pleased with them. They are old school. Follow directions, do your work and get a sticker, but sometimes it helps to just switch things up a bit.
We do lots of cooking together. A couple of cheap step stools from IKEA let them help me. We work on instructions, sequencing, fine motor skills, science, and life skills just by making dinner.
Dean is a lover of all things SCIENCE.
Last night his prayer was: God please let my mommy and me get lots of money so we can go to the scrap metal yard and get some scraps for my robot.
I work hard to let him make inventions in our house.
IT'S NOT ALWAYS EASY, but man he loves exploring materials and manipulating them into an invention or experiment. I have art supplies and items at his reach for him to explore. He often finds other items and the only rule is that he has to ask before he begins.
We do some sensory activities with rice and play dough.
Again- not always easy because you know there's going to be a mess.
BUT they focus, they use their imaginations, their social skills, and they have fun.
Another source that I LOVE is Preschool Express by Jean Warren.
What her site lacks in style it MORE than makes up for in substance.
She's an old school style preschool teacher that can take a theme and stretch it across mutiple subjects for many age levels.
She also makes it readable and easily adaptable for stay at home mamas.
I honestly could rave about her for days.
Go here for her free Feb Toddler calendar and here for her free February Preschooler calendar.
These have one activity per day that help if you're in a rut and need and idea fast.
I also plan outings throughout the month that add to the learning.
Library
Indoor Play Areas
Zoo
Parks
But honestly the kids get just as much (if not more) from our nature adventuring. Talk about science! They see sooo much that adults normally gloss over.
And conversations are so deep and varied just by taking a walk around our backyard, down the road, or in a field or forest.
This year, we're going to be adding gardening into our day.
Let the planning begin!